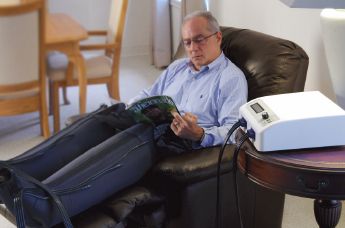 The CircuFlow Intermittent Pneumatic Compression (IPC) Pump Model 5200 allows patients the freedom to treat chronic venous and lymphatic disorders in the comfort of their own homes. Using intermittent gradient sequential pressure applied through multi-chambered garments, the CircuFlow 5200 increases blood flow and provides extracellular fluid clearances.
The device's 4"x1" digital LCD screen provides easy access to essential set-up information and real-time pressure readings. The CircuFlow 5200 can also operate in two modes:
A gradient mode in which a maximum pressure and pressure gradient are administered, and . . .

pressure mode in which each chamber's pressure can be set individually.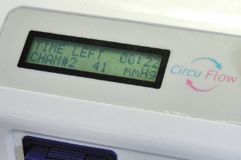 KEY FEATURES:
Adjustable inflation cycle, proximal to distal; 20 – 80 seconds
Dual operation modes: gradient mode or pressure mode
Customizable pressure from 25 to 120 mmHg
Smart pressure monitoring preventing pressure tunneling due to operator setup error
Ability to adjust or skip individual chamber pressures
Automatic vacuum that drains the air from the garments for fast and easy removal after therapy
SPECIFICATIONS:
Dimension: 11.5" W X 10" D X 4" H
Weight: 12 lbs
Inflation Cycle: Adjustable 5-20 seconds per chamber
Deflation Cycle: 12 seconds
Cycle Time: Adjustable 20-80 seconds
Therapy Time: 30, 60 or 90 minutes or continuous
Electrical: 120VAC, 60Hz, 100 VA maximum
Fuse Rated: 250VAC, 1.0 AMP, SLO-BLO
Applied Part: Type B
Protection Against Electrical Shock: Class 1
Operation Mode: Continuous operation with intermittent loadingl