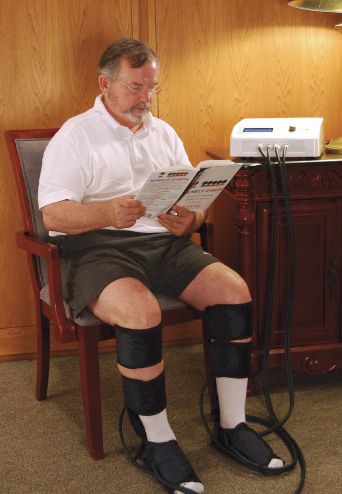 The ArterioFlow Model 7500 device is designed for the treatment of peripheral arterial disease, diabetic foot, intermittent claudication, and other chronic disorders of the lower extremities caused by reduced blood supply or ischemia. The device applies compression to the foot and calf sequentially through the ArterioFlow Garments to empty the veins in the lower extremities. In return, the arterial blood is more easily and readily delivered to the feet and blood-deprived tissues.
Key Features:
Quiet and rapid compression to the limbs
In-home treatments
Rapid compression of pressure up to 120 mmHg
Adjustable pressure and therapy time via LCD screen
User friendly setup interface
Option to monitor pulse and SpO2 in real-time with
Devon Medical Products™ Pulse Oximeters
Specifications
Dimension: 11.5"(W) x 10"(D) x 4"(H)
Weight: 12 lbs.
Inflation: Up to 4 seconds
Cycle Time: 20 seconds
Electrical: 120VAC, 60Hz, 100WATTS MAX
Fuse Rated: 250VAC, 1.0AMP, SLO-BLO
Applied Part: TYPE B
User Interface: LCD screen
Operation Mode: Factory Default or Customer Set
ArterioFlow Model 7500 Pneumatic Compression Device Garment
The ArterioFlow Garment is specifically designed to accommodate the ArterioFlow product line from Devon Medical Products. These garments are offered for lower limbs in a one-size-fits-all configuration.
Key Features:
Two-chamber garment
Larger air tubing for higher air flow rate